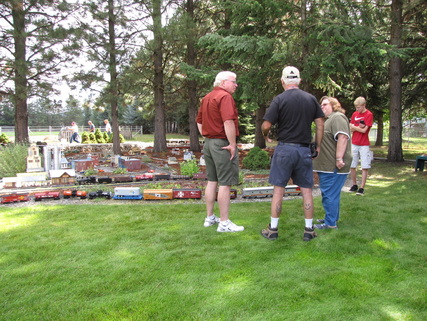 Our club was officially started in January 1994 by four families living in the Coeur d'Alene/Spokane area. We wanted to form a club where people with like interests in garden railroading could get together and have fun in sharing this great hobby with one another and the public. We are a family oriented club because garden railroading involves model railroading and gardening together. It has something to offer for both husband/wife and kids of all ages.
We meet on the third Saturday of every month at a member's home, with the exception of December. Our meetings usually start at 11:00 am and include a potluck lunch, a short meeting, a raffle, lots of train running on the host's layout, and of course fellowship with each other. Throughout the year members may also take part in workshops on a variety of interesting topics.
Currently, we have around 40 family members in our club, although they don't all show up at every meeting. Our membership dues are $20.00 a year for the entire family and a one-time $5.00 fee for each name tag.
There are lots of benefits to becoming a member;
· Fellowship (meetings)
· Friendship (meeting new people)
· Helping Hands (railroad building)
· Learning (modeling and gardening)
· Fun (playing with trains)
· Monthly Newsletter
· Clothing (hats and shirts)
The club shares our interests with others outside of the club by participating in the following events:
· Spring and Fall Model Train Shows
· Spring Garden Expo at Spokane Community College hosted by The Inland Empire Gardeners Club
· Fantasy Flight
If you have questions or an interest in joining the club please email to:
ingrsinc@gmail.com
.
---